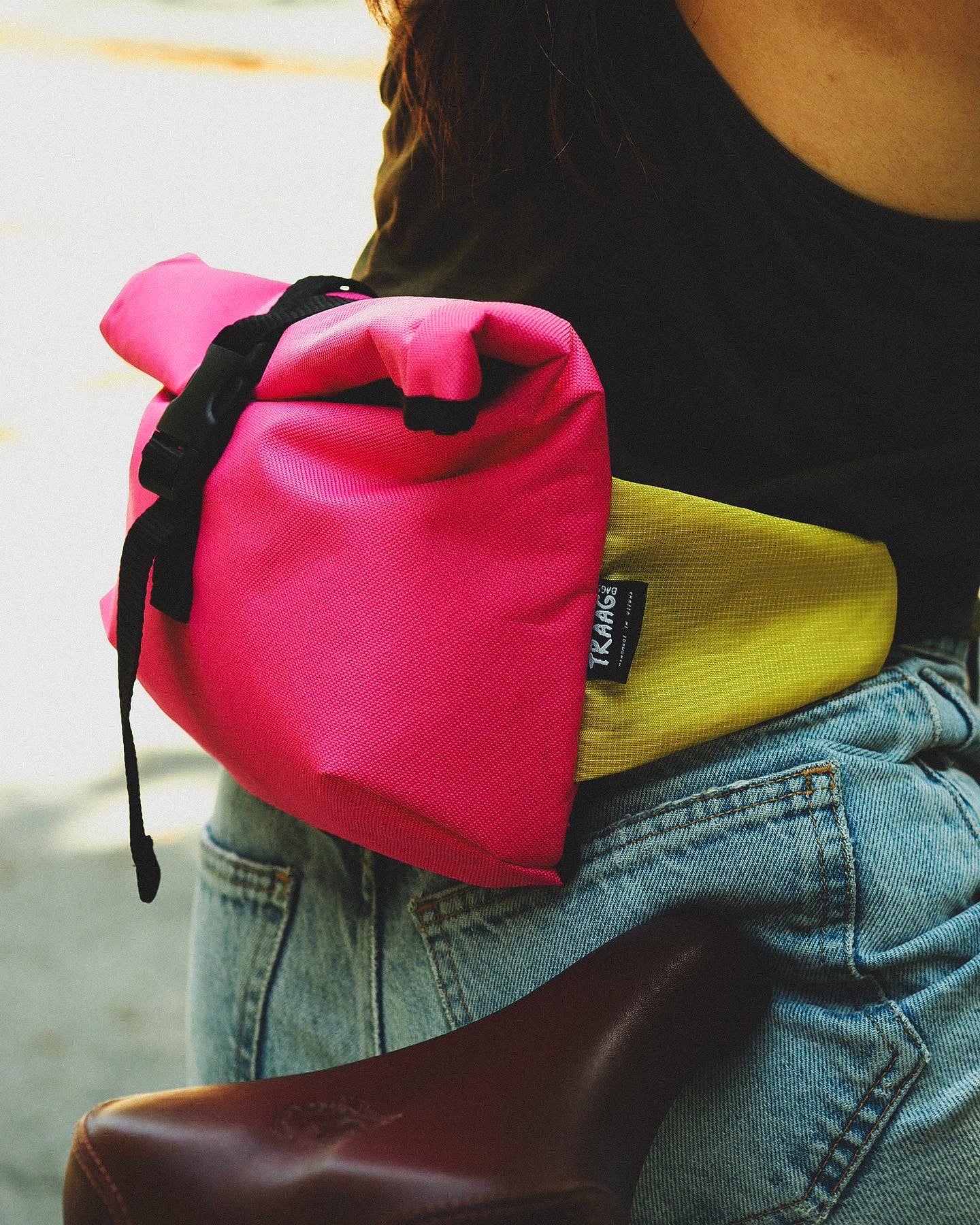 · By Fanzy Bikes
Zelda's Traag Bags Jumbo Bag
Crafted with love and creativity in the vibrant city of Vienna, this bike bag is the embodiment of style and functionality. What sets this gem apart is its multiple wearing options – you can rock it on your hip or shoulder, or easily fasten it to your bike's handlebar. Talk about a truly adaptable companion for your cycling adventures!
But wait, there's more! Let's talk about the fantastic color choices. Zelda offers a striking funky pink and yellow combo, or a vibrant turquoise hue – both guaranteed to turn heads as you ride with panache. Trust me; you'll be the talk of the town!
The best part? Each bag is lovingly handmade by the talented Zelda herself. This means you get a one-of-a-kind piece, carefully crafted with attention to detail and passion for the art of cycling. By supporting local artisans like Zelda, you're not just getting a fabulous bike bag; you're investing in the continuation of timeless craftsmanship.
Now, here's where it gets exciting. This Traag bag isn't just about looks; it's got your back when it comes to practicality too. The size is spot-on, offering enough room to carry your essentials without being cumbersome. And you know what that means – cookies! Yes, you can stash your favorite cookies and enjoy a delightful treat on the go. Plus, there's plenty of space for a trusty lock, so you can confidently park your bike while you explore the town.
Whether you're a hardcore bike messenger or an adventure seeker on your vintage ride, Zelda's Handmade Traag Jumbo Hip Bag is the ultimate match for you. It's got style, substance, and a whole lot of flair. Trust me; it's more than just a bag; it's an expression of your cycling persona!
Excited to get your hands on this fantastic creation? Luckily, you have two options – head over to the Fanzy Bikes online shop for the convenience of digital shopping, or make your way to the delightful Fanzy Bikes store for a truly immersive experience.
So, there you have it – a stunning bike bag made by the fabulous Zelda in Vienna. With this eye-catching accessory, you'll be pedaling through the city streets or off-road trails with pride. Don't miss out on the chance to elevate your ride to the next level. Grab your very own Zelda's Handmade Bike Bag now and embark on unforgettable cycling adventures in style! Happy riding, friends!